Firmus Piett
Biographical information
Homeworld
Born
Physical description
Species
Gender
Height

5'7" (1.72 m)

Hair Color

Brown

Eye Color

Brown

Family information
Political information
Era(s)
Affiliation

Firmus Piett was an admiral of the Imperial Navy's Death Squadron, Darth Vader's personal fleet of Star Destroyers. Coming from humble beginnings on the backwater Outer Rim world of Axxila, Piett began his naval career with the Axxila antipirate fleet. Though his posting was not notable, Piett's creativity and dedication made his home sector the safest in the Outer Rim. His ascension through the ranks, however, was not so much a tribute to his dedication, but his ability to shift blame onto others when mistakes were made. With an extraordinary number of arrests and suppressions to his name, as well as what appeared to be a perfectly clean record, Piett earned the attention of high-ranking officers on Imperial Center.
Transferred to the Imperial Navy, Piett was picked out to serve in Vader's Death Squadron, which prowled the Galaxy searching for Rebel Alliance headquarters. Given the captaincy of the Imperial I-class Star Destroyer Accuser, Piett served diligently until the command of the fleet's flagship, the Star Dreadnought Executor, was vacant. As captain of the Executor, Piett relentlessly searched for the hidden Alliance base while secretly undermining his superior, Admiral Kendal Ozzel.
Biography
Edit
Early life
Edit
Personality and traits
Edit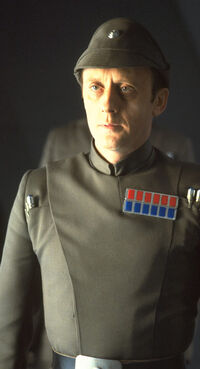 Appearances
Edit
Notes and references
Edit